Our quality policy is an integral part of our self-concept and illustrates our demands on the quality of our processes, products and services. For the realization of the quality policy, we have established a quality management system on the basis of the DIN EN ISO9001:2015. The quality management system is actively embraced by all employees and in constant development.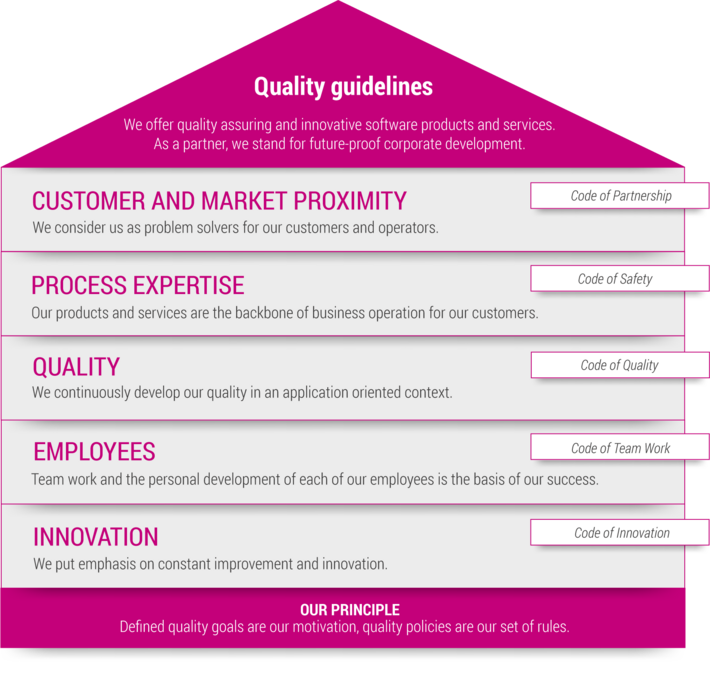 Customer and market proximity
Our software products and services do not serve as an end in itself. They are adapted to the demands of the market and aligned to our customers' needs - thereby, helping to fulfill current requirements.
We consider us as problem solvers for our operators. Therefore we always act in their interest to generate maximal added value as well as customer satisfaction through our offering portfolio. We work closely together with our customers and maintain a trusting relationship based on partnership.
Process expertise
Our customers work with our software on a daily basis and rely on the accuracy of the results. Our products and services are consequently the backbone of business operation of our users. We provide the professional know-how and the process expertise to support our customers every step of the way: starting from requirement analyses to identification of optimization potentials, installations, acceptances and staff training.
Quality
Quality means that we align all services from development to customer care on the needs and requirements of our customers. In addition, the quality of our products and services determines customer satisfaction. To meet the demands of the market and of the operators, we continually improve our performance portfolio. Thus, orientation on current standards and technical framework is part of our work. Qualitype stands for quality made in Germany.
Employees
Our quality goals can only be reached with a motivated and qualified team of employees. We therefore demand and promote responsible, independent and professional action and put emphasis on work-related and personal development of every employee. To achieve optimal employee satisfaction, we put great emphasis on honest and fair contact between employees and are always open to new ideas, proposals or wishes.
Innovation
For us, innovation and established solutions are not in opposition as there is always continuous improvement. Through certified quality processes, the quality and the established products and -services are not at risk, but are developed in a demand orientated manner. For the advancement of our company, we improve products, services, processes as well as employee qualification continuously. Our main goal is to guarantee our customers the highest degree of benefit and security in the next decades.